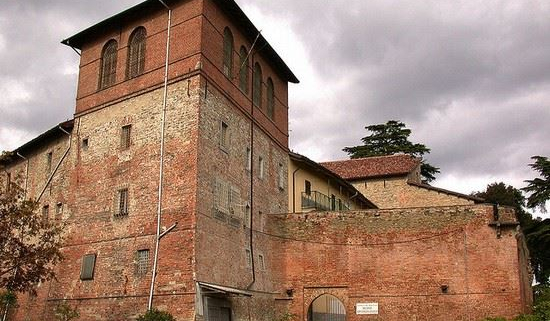 Located in the fifteenth-century castle of the Paleologi, Marquis of Monferrato, the museum offers, through an exhibition divided into six rooms, evidence of the history of the territory, ranging from prehistoric times to the Middle Ages.
In the first two rooms are exposed the finds of the most ancient phases: chipped stone artefacts dating back to the Palaeolithic period and polished green stone axes from the Neolithic period (VI-III millennium B.C.) in the first one; metal and ceramic finds dating back to the Iron Age (I millennium B.C.) in the second one, testifying the indigenous culture of the Liguri Statielli. Precisely from this population derives the name of the Roman city, Aquae Statiellae (for more information, see the detailed information sheet), founded between the II and the I century B.C.;
The three following rooms are dedicated to this very settlement, and are divided into thematic areas: the first one houses the remains of the tombs (I-IV century A.D.) and the second one (I-IV century B.C.). ) – of which two have been reconstructed – found along the Aemilia Scauri, the Roman road that connected Tortona and Vada Sabatia (probably identifiable with Vado Ligure); in the second, you can admire the reconstruction of the great fountain called "della Bollente", as well as remains related to the architectural aspects of the buildings; then, in the last of the three rooms, there is a series of ceramic containers.
The sixth room, on the other hand, is dedicated to the medieval phase: in fact, there is a 5th century funerary stele and two funerary outfits from the Longobard period, as well as a selection of 13th-14th century ceramic materials.
INSIGHTS AND VISITS
Located in the fifteenth-century castle of the Paleologi (via Morelli 2, Acqui Terme- AL; coordinates Lat. 44°40'29.39 "N, Long. 8°28'22.68 "E), the museum is open for visits from 10 a.m. to 1 p.m. and from 4 p.m. to 8 p.m., from 1st May to 30th September; from 9:30 a.m. to 1:30 p.m. and from 3:30 p.m. to 5:30 p.m., from 1st October to 30th April. For up-to-date information, please visit: https://www.acquimusei.it/
This post is also available in: Italiano