Located in the northern part of the municipality of Biella, the megalithic area includes a cromlech, i.e. a set of 11 menhirs arranged in a semicircle, dating from 5000 to 4000 BC. The dating is based on the discovery on the surface of the boulders of some cruciform inscriptions and on the layers of limestone found in a coppella, i.e. a hemispherical cavity created by man.

The megalithic complex as it appears today after the reconstruction
The megalith phenomenon affects large areas of the continent (the most famous megalithic circle is Stonehenge), and occupies a time frame ranging from about 5000 BC to the beginning of the 1st millennium.
As for the location of the cromlech, it was rebuilt on the basis of aerophotogrammetric testimonies of 1954 and terrestrial photographs of 1978. As a matter of fact, in the 1980s, the menhirs were moved and amassed, during some construction works. Instead, a campaign conducted in 2005 freed them from brambles and relocated them upright. The site is located near the intersection of Via S. Giovanni Bosco and the SP143.
Another archaeological find, currently unfortunately no longer visible, was that relating to the medieval castle of the counts of Cavaglià.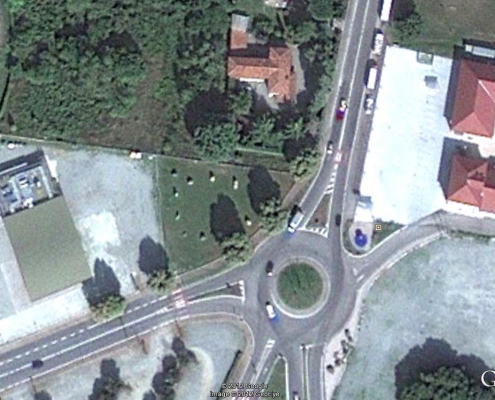 Panoramic view of the archaeological area of Cavaglià from above
SUPPLEMENTARY INFORMATION AND VISITS
The megalithic circle is visible independently, and is located near the intersection of Via S. Giovanni Bosco and the SP143 (municipality of Cavaglià – BI; coordinates Lat. 45°24'32.86″N, Long. 8° 5'43.26″E).
This post is also available in: Italiano