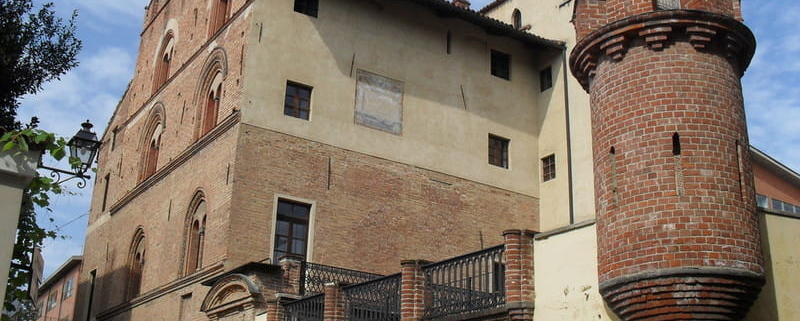 In addition to materials from the nearby site of Pollentia (click here for more information), a Roman colony founded in the 2nd century BC, the archaeological museum houses finds of various kinds (artistic, numismatic, epigraphic) discovered in Bra's surroundings, ranging from pre-Roman times to the Middle Ages. Founded in 1919, the museum is heir to the "People's Museum of Bra's history and art" and it is based in Palazzo Traversa (see image 1), a noble residence whose original nucleus dates back to the 15th century, founded by the Malabailas, a family from Asti, but whose name binds to a house that was one of the last owners, until the beginning of the last century.
The archeological tour, spread out on three floors, allows you to admire testimonies that cover a very large time frame: the moon razor exhibited together with other finds from the pre-Roman era, such as the iron sword, ritually folded, found in the vicinity of the royal castle of Pollenzo, has an Etruscan origin. In the Roman room we find materials from the two necropolis, discovered near the Laggera river and the Cascina Pedaggera, such as cups and balsam vases (used to contain aromas and ointments) in glass, ceramic containers, metal furnishing elements, as well as a series of epigraphs (see image 3).
The Late Antiquity (that phase that, from the end of the 3rd century AD, ends shortly after the end of the Western Roman Empire) is represented by finds that testify to the spread of Christianity, such as a skylight in the shape of a fish, one of the symbols of Christianity of the origins. There are few medieval testimonies coming from the ancient church of Sant'Andrea, including sandstone lions. Finally, the numismatic section includes coins from the Roman and medieval eras.
SUPPLIMENTARY INFORMATION AND VISITS
The archaeological museum, located in Palazzo Traversa (Via Parpera 4, Bra- CN; Coordinates Lat. 44°41'54.08″N, Long. 7°51'19.18″E), is open for visits on Tuesdays and Thursdays (in addition to Sunday, but only from February to November), from 3 pm to 6 pm: it is also accessible on Easter Mondays, April 25, May 1st and August 15th (closed instead on other holidays). Reservations, even at other times, for schools and groups (for up to 30 people) are mandatory. For up-to-date information visit the website: http://www.palazzotraversa.it/
This post is also available in: Italiano