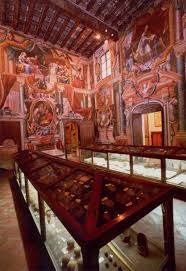 Founded in 1898, the civic museum of Cherasco houses the collection of the ecclesiastic Giovan Battista Adriani, a historian at the Savoy, born in Cherasco in 1823. He collected, among other things, archaeological material of local origin.
Since 1908 (in the previous ten years, the collection was in fact exhibited at Adriani's house), the setting of the museum exhibition are 8 rooms of the 17th-century Palazzo Gotti in Saleranno (see image 1). Inside the first two areas, there are the archaeological finds, some dating back to the Bronze Age (2nd millennium BC), others are – coming from the territory of Cherasco and from the sites of Pollentia and Augusta Bagiennorum – from the Roman era: there are various materials on display (ceramics, glass, bricks, oil lamps, as well as two high-imperial epigraphs showing traces of reuse).
In the next two rooms, you can admire a series of seals, secular and religious, medallions, from medieval and modern times, prints, oil paintings and watercolors, and then move on to the next environment, adorned with a 15th-century table of the Madonna and Child and a "Judith".
Finally, after two rooms dedicated to furniture, prints and oil paintings, we reach the last exhibition space, in which a numismatic collection of about 12000 pieces can be admired. Once the study and cataloguing will have been completed, Cherasco could become the second Piedmontese pole in the monetary field, after Turin.
SUPPLEMENTARY INFORMATION AND VISITS
Located in the 17th-century Palazzo Gotti di Saleranno (via dell'Ospedale 40, Cherasco- CN; coordinates Lat. 44°39'9.86″N, Long. 7°51'24.71″E), the museum itinerary is open for visits every public holiday from March to December, from 9 am to 12 pm and from 3 pm to 6 pm; it is also possible to visit the museum on different days than the opening days, by telephone appointment (by contacting Cherasco's Office of Culture and Tourism at +39 0172 427050)
This post is also available in: Italiano