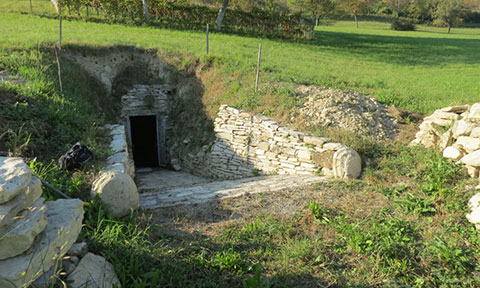 The megalithic area discovered in Casnea, in Briaglia, 4 km east of Mondovì, dates back to the period of the Ligurian occupation of the Po Valley, which probably originated in the Bronze Age: Many questions remain about this people, given the scarcity of materials and literary sources (some authors of the late republican and high imperial era speak of it in relation to the campaigns of conquest of the Po area by Rome). The area was investigated in 1970 by the archaeologist Janigro d'Aquino, who started a series of excavations that would last for three years: since then, the site has unfortunately experienced a phase of abandonment, although, currently, the arrangement of the area is the subject of a project financed by the Region. Excavations have unearthed a number of megaliths mehnir, anthropomorphic and zoomorphic stelae, as well as a dolmen
So called for the entrance, similar to the traditional dolmens, it is a half-moon mortuary room, preceded by a corridor 30 meters long, in which there is also a well, and covered by a mound of earth: there are, on the walls, traces of red ochre, that we find in other Ligurian funeral contexts.
Peculiarity of this funeral structure is the alignment of the dromos (Greek term indicating the entrance corridors) with the sun rays on 21 December, winter solstice: running along the tunnel and reflecting in the well of water, these create a special play of light inside the room.
IN DEPTH AND VISITS
The site (coordinate Lat. 44°23'58.55″N, Long.7°52'38.73″E)  is not currently open to the public.
This post is also available in: Italiano