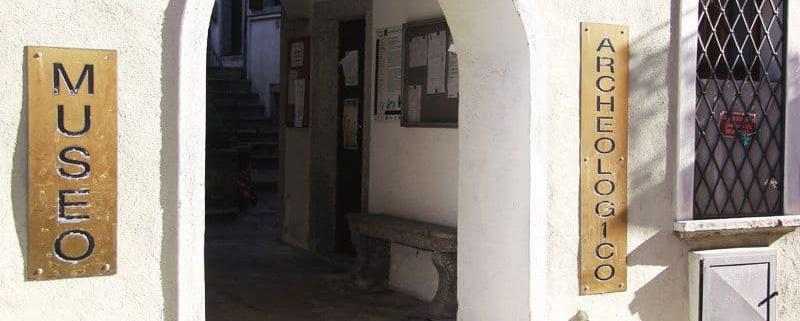 The museum was inaugurated in 2003, after the transfer of materials from the Preacher's House, which has since become inadequate, to the current headquarters in Via Roma. The institute houses a collection of materials from the area of Verbano-Cusio-Ossola, which are the result of donations from private individuals and excavations by the Archaeological Group of Mergozzo. The oldest finds date back about 5000 years: these are flint tools, such as stone axes from Mergozzo and Baceno, and some ceramic fragments. From the Late Iron Age (1st century BC) there are four stelae from Brisino, on which are incised, in leponzio (Celtic language), the names of the deceased, as well as a Celtic sword from Mozzio di Crodo and the grave goods of the necropolis of Carcegna.
There are numerous testimonies of the Roman age, given also the position of Mergozzo, which was an important point of transit: two necropolis, located in Cappella and Praviaccio, dating back to the 1st-3rd century AD, have returned the complete grave goods (jugs and ceramic oil lamps, glass objects, coins) of six and seven tombs respectively. The remains of a high-imperial furnace have also been found, in Robianco, of a sacello dedicated to Jupiter and of some tombs in the hamlet of Candoglia. The most recent archaeological evidence consists instead of the grave goods of the tombs of Carcegna (4th-5th century) and the early medieval ones of St. John in Montorfano, which testify to the Christianization of the area.
SUPPLEMENTARY INFORMATION AND VISITS
Located in the city centre (via Roma 8, Mergozzo- VB; coordinates Lat. 45°57'38.06″N, Long. 8°26'54.55″E), the museum is open for visits, in April, May, September and October, on Saturdays and Sundays from 9 am to 12 pm and from 3 pm to 6 pm; in June, July and August, every day from 9 a.m. to 12 p.m. and from 3 p.m. to 6 p.m.
This post is also available in: Italiano