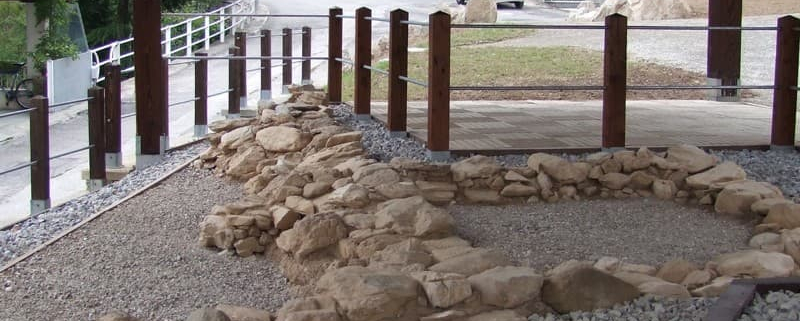 Located to the northeast of the town of Valdieri, the archaeological park contains the remains of a necropolis of the protohistoric age: the twelve burials date back in part to the Bronze Age (1350-1200 BC), partly to that of Iron (625-475 BC). Rectangular lithic enclosures were erected around the tombs (see image 1): an older compartment- which emerged during excavations conducted between 1993 and 1995- about 90 cm thick and cut in two by a plot of river pebbles, are added others, dating back to the Iron Age, surrounding the individual burials. It is an incineration necropolis: the ashes of the deceased are contained in biconic lithic urns, surmounted, in some cases, by sandstone slabs. The remains of three ritual structures, denoting a monumentalization of the site, also date back to the most recent phase.
The burial kits, which consist of bracelets, bronze rings and fibulae (brooches used to stop the robes), are housed, together with the urns, at the Museum of Resistance and Territory (see image 2), which stands at Casa Lovera, an ancient noble residence.
SUPPLEMENTARY INFORMATION AND VISITS
To visit the Museum (Piazza della Resistenza 14, Valdieri- CN; coordinates Lat. 44°16'38.45″N, Long. 7°23'44.50″E) and the archaeological park, overlooking Via Guardia alla Frontiera (coordinates Lat. 44°16'46.21″N, Long. 7°24'11.46″E), you must contact the Municipality of Valdieri in advance, calling the number +39 0171 97109.
This post is also available in: Italiano