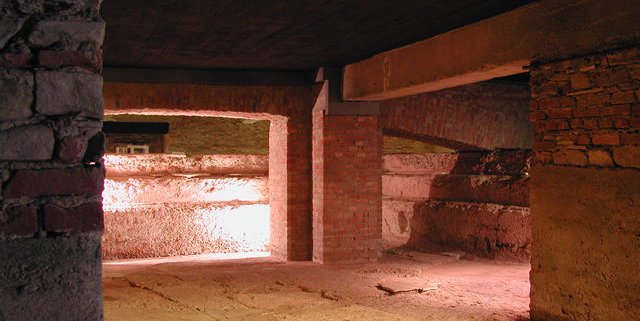 Five distinct archaeological sites testify to the city's Roman past: Aquae Statiellae, this is its name, was founded between the 2nd and 1st centuries BC, the romanization period of northwestern Italy, around the hot water source known as "Bollente" (= boiling). From this spring came the water that filled the thermal bath pools, of which was found the calidarium (the hottest of the three thermal environments). Located in Corso Bagni, this site presents the remains of the swimming pool, which originally had to be covered in marble, and some rooms next to the calidarium.
On the other hand, the six rooms of a house-workshop are located in Via Cassino. Hinged on a central courtyard, this building, dating back to the 1st-2nd century AD, housed an artisan workshop intended for the production of ceramic pottery.
In the vicinity of the thermal baths, near the current Via Scatilazzi, stood the theatre of the imperial era, which exploited the slope of the hill, and whose steps were carved directly into the rocky bank that occupied this area. The scene, close to the "Bollente", is located today under some modern palaces.
The remains of a building interpreted as a temple have instead come to light in the area between Via Aureliano Galeazzo and Corso Cavour: difficult to interpret, they consist of a portico about 20 meters long, divided in two by a row of pillars.
The last area is the one that houses two sections of the ancient aqueduct. Probably dating back to the Augustan era, it has a total of fifteen masonry pylons, which stand for 15 meters, raking towards the top, and support the arches, preserved in four cases. The two sections are located on the right bank of the Bormida, to the south of the town.
SUPPLEMENTARY INFORMATION AND VISITS
Located in Corso Bagni 7 (Acqui Terme, AL; coordinates Lat. 44°40'22.52″N, Long. 8°28'7.74″E), the site that houses the remains of the spa is open for free and free visits, on Saturdays and Sundays, from 3:30 pm to 5:30 pm. Instead, because they are open areas, the theater (via Scatilazzi, Acqui Terme- AL; coordinates Lat. 44°40'30.39″N, Long. 8°28'16.15″E) and the aqueduct (Lat. coordinates 44°39'58.38″N, Long. 8°28'1.25″E) are always visible. For up-to-date information, please visit the website: https://www.acquimusei.it/
Click here for the map (thermal plant)
Click here for the map (theatre)
This post is also available in: Italiano