The past lies under your feet!
Discover the underground history of the city with an archaeologist!
THE PROJECT 
The "Underground Alba" project was launched in Spring 2011. It is administrated by the association "Ambiente & Cultura" and co-ordinated by the Museum "F. Eusebio" of Alba, with the patronage of the Ministry of Culture and of the Archaeological Superintendence of Piedmont and MAE. The 2013 profits have been reallocated in the restoration of the Mastodont of Verduno, a fossil
partially destroyed by an illegal excavation, and to the safeguard of Tanaro river paleontological heritage.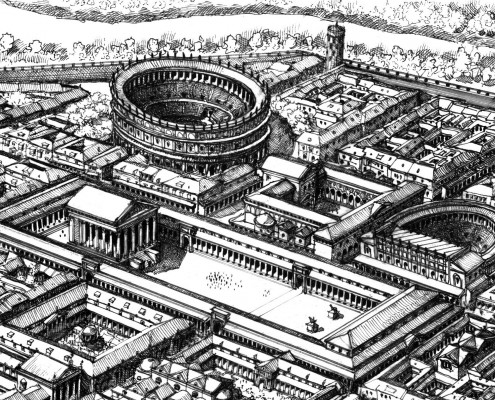 Since the time of Alba Pompeia (that was the name of the city during the Roman age), the historical centre of the city has seen a sequence of generations of town, belonging to different civilizations, one after the other, in the same place .  The medieval town grew up on the ruins pertaining to the Roman period, the modern town took its place without cancelling it completely, and so on, we arrived at today's town that still retains the urban shape of Alba Pompeia. Many things have remained in the heart of the  underground city as evidence of the past two thousand years of history. A few meters below the streets and the sidewalks, there are fragments of lost cities which constitute the rich heritage of the F. Eusebio Museum and of the archaeological and architectural city path. The ancient temple, the roman age theatre and main square, the first baptismal font, the lost medieval towers…
TO DOWLOAD THE FLYER WITH ALL INFORMATION, PLEASE CLICK HERE: PIEGHEVOLE ENG
Visit path
The Underground Alba path is a walking tour with a professional archaeologist to discover Alba's underground roots. The itinerary will vary according to the day selected. The journey foresees to reach 3 of the 32 the archaeological and monumental sites of the city and it ends in the museum that houses the fossils of the Mastodont of Verduno and the Whale of Alba.
At the end free visit to the 20 rooms of the "Eusebio" museum.
More details?

This post is also available in: Italiano